About
---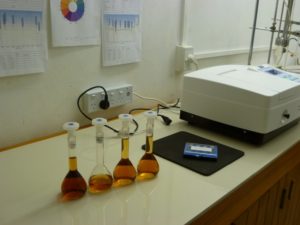 We are a New Zealand based phyto research laboratory manufacturing herbal and natural supplements.
 COMPANY PROFILE 
Hira Laboratories was established as a limited company in 1999 after many years of preparatory research. Its objective is to provide a range of herbal plant based products for people and animals organically grown and manufactured in New Zealand. The company has been involved in developing a medicinal plant nursery focusing on the more unusual ones like ashwagandha, as well as one additional very precious plant involved in addressing the insulin response.
PHILOSOPHY
Hiralabs are committed to ensuring that plant integrity is maintained through its rigorous manufacturing process from harvest to bottling.
Our herbal liquid products are highly concentrated with a long shelf life containing no fillers or bulking agents.
While we are not able to make any therapeutic claims in relation to conditions that characterise pain and suffering, we are able to provide advice on how you may be able to address certain conditions provided medical or veterinary advice is first sought.
We recommend that the individual conducts their own research so they are well informed about  the efficacy of herbs which can be seen on our Plant Profile page.
When taking herbal products we always make the caution that medicines should not be discontinued with out first checking with your vet or doctor.
Wherever possible we use organically and/or pesticide and herbicide free plant material.
KEY PEOPLE 
Dilip Kane -Managing Director:
B.Sc.Hons. (Phy. Chem.); B.Ed.; H.Eng; M.Sc.Chem.  P.Chemist with several years of research, teaching and manufacturing experience. He is working for Hira Laboratories as a research chemist and production manager.  His particular interest is in phyto-chemical analysis of medicinal plants. He has developed a variety of extraction methods, which minimize the decomposition of bio-active plant ingredients in our extensive range of plant extracts.
Everdien van Eerten- Marketing Manager

(Dip. Hort. ;T.T C; STMS) is a qualified horticulturalist and environmental consultant contracting to  international consultancy group for the last 20 years. She uses her extensive research into medicinal plants to complement the production of herbal products. She has been involved with horses for the last 25 years, educating, competing and judging . Her role is largely an advisory one where clients may discuss equine, and pet health issues.
Manufacturing Processes
Our manufacturing process is such that we ensure that plant integrity is maintained and that the end product conforms to stringent standards that will provide the client with consistent high quality products. This process starts by ensuring that we obtain the best quality raw material with each consignment providing us with an assay and quality assurance. Raw material (chemical free plant material) is locally sourced from reputable growers. Some herbs like Devil's Claw are sourced from overseas because they can not be grown here. In this case it arrives dried and in most cases vacuum sealed along with documentation indicating and verifying its botanical name matches the content.
Method
Our extraction method has been developed by our chemist to produce a concentrated liquid where only small amounts are required to 'treat' an animal horse, pet or person. Our high tech instrumentation enables us to assess levels of active ingredients present in each batch. This cold extraction process is done in a controlled environment using stainless steel equipment and storage vats.
Our Products
Our range of products come under the category of herbal and natural supplements.
Liquid extracts (our largest group) which have high levels of phyto-chemicals. This liquid retains the ingredient integrity of the original plant and is preserved in this state for many years without losing efficacy. The strength is determined by the dosage required. An average horse for example would only require 3-4ml daily of St John's Wort, a dog just 1 drop per kg and a human around 1-2ml daily. Shelf life is up to 10 years. An extract is more effective than traditional tinctures, vinegar-extracted tonics or dry material.
Tonics these may be used as a daily tonic. Our tonics do not use a vinegar extraction method but consist of a range of herbal extracts usually making up around 10% by volume with the remainder being raw cider vinegar, which in itself has a number of health benefits. Daily dose is around 15 to 20ml. Shelf life would be around 4 years.
Topical Sprays these consist of herbal extracts that can be applied to skin or fur. These have no fillers or added water so they remain sterile and efficacy intact.
Oil Supplements these consist of omega oils filled into dark glass in a controlled environment.
Skin Care Our skin care is manufactured in small batches. We use only the finest of ingredients eg Certified Organic Rosehip oil, jojoba oil, oil soluble vitamin C, essential oils and herbal extracts. None of our skin care products have fillers, chemicals or have been tested on animals.
Disclaimer
Hira Laboratories will accept no responsibility for the application of any of the enclosed information in practice nor will accept any responsibility for the use or misuse of any of the products listed in this site. The information on this website is conveyed in good faith therefore no warranties expressed or implied are made.