Design Process
---
This is an oblique aerial with the house constructed and some landscape features and structural planting in place. Photo taken around 2012.
Design Considerations
When you buy a piece of land especially a completely blank canvas it does pay to come up with a planting sequence. I will cover the basics of Landscape Design which will cover an overview of design principles and stages. Good planning at this stage can ease long term management to help with budget forecasting, production methods, establishment failure and good environmental outcomes. It is quite feasible to establish both a productive piece of land alongside rural amenity gardens and a green pharmacy.
When developing your property it is wise to be aware of resource and planning requirements you need when making what seem to be innocent changes to your land. As always work within the constraints of your location, soils and climate. Let's look at some broad categories:
Financing and Resources Do you want to supplement your income with something productive generating returns or is it an extension of your home garden? Do you have the resources to implement the design and maintain the vision of design once established? i.e. costs of ongoing maintenance.
Land Form and Vegetation Be aware that major earthworks and any changes to water courses need a resource consent. To minimise costs and landform disruption, make use of existing landform to create natural boundaries and division of land use.  Don't be in a hurry to remove existing vegetation.
Land Use Requirements Consider best land use options and allocate the priority ratio you will attach to grazing, planting or cropping areas. Divide land accordingly through fencing, hedging, shelterbelts, pathways and vehicle access routes. Look at the possibility of three tier farming to maximise land use.
Crop Diversity Diversifying crops reduces the risk of failure which is  especially relevant for small holdings.
Shelter Shelter is essential to any land use activity be it crops or livestock. Again size constraints will provide the opportunity to install multi-functional shelter systems and these may include native species with medicinal attributes along with fruit and nut bearing species.
The Design Process

 
The design process can be sorted into a simple 3 stage process.
Stage 1: The Walk Around
Walk your property and ask yourself:  What are your objectives and what are your restrictions and available resources?  The land use around you will be a good guide as to what works and what doesn't. Take photos and get cadastral/survey information from your local authorities. Google Earth has aerial photos that you can download and they will give you a bird's eye view of your place showing existing buildings and structures along with vegetation. You can often draw in concept ideas yourself over a faded-back aerial.
Stage 2: The Concept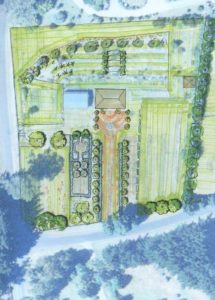 I have hand drawn in some broad concept ideas over an old google aerial. The design has changed over the years but the semi-formal layout remains with a wide central driveway flanked by olive  and citrus trees. The first things we planted were the structural trees.
Armed with the above, you should be well on your way to generating design concept ideas.  At this stage using your aerial image or site drawing; mark in the boundary out line, any obvious features; existing vegetation, streams, buildings or other landmarks. Work these drawings to add new plantings, paddock dividers, shelterbelts, junction plantings, crop or stocking areas and access ways.
Stage 3: Detailed Design and Implementation
Your concept drawing now has the location of key elements and broad areas for treatment. The detailed design drills down this concept into specifying planting types, crop selection, plant numbers, spacing's, maybe the location of a dressage arena, stables, hen house,  tunnel house, a pharmacy paddock just to mention a few. At this stage you need to think about costings and staging the works. Care should be taken to address legal requirements for applicable resource or building consents and how they will be met. Professionals can help you here to avoid costly mistakes.  If you are not implementing the design yourself obtain good contractors through word of mouth and ask for references of similar jobs undertaken.