Grass Affected Horses and High Fructan Levels
Introduction 
This article only discusses high levels of fructans in grasses and how some of the effects can be mitigated. Other factors that are not discussed here is that levels and ratios of potassium and sodium are also critical in managing behavioural and adrenal issues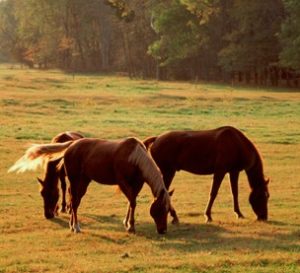 High Sugar levels in Grass or Myco-toxins? A more detailed explanation is provided on our website which can be followed by clicking on this link.
Just be aware that high sugar levels are only part of the story as is supplementation of magnesium.
A question that often occurs is this:
Is my horse affected by the high sugar levels in the grass?…or …
Are myco-toxins present on the surface of the leaf blade responsible for spooky behaviour.
There is a big difference and both are caused by environmental conditions but the actual causative factor is very different working on different parts of the horse's physiology. High sugars and low magnesium levels will lead to excessively spooky and reactive behaviour which will act on the adrenals making the horse more reactive to stimuli.
Myco-spores on the other hand when ingested act on the neurological system making the horse 'see' and 'feel' things that don't exist.  In other words the horse is experiencing a mild form of a trip one would get when taking magic mushrooms.
High Sugar Grasses
Now with the advent of new grass and paddock species, usually with higher than normal high fructan levels tailored toward milk production, the problem with grass affected horses increases yearly.
What are Fructans in Grass? 
Fructans  are fructose chain molecules, a type of sugar which is the by-product of photosynthesis which manufactures energy in the form of starches. On sunny days, fructose is produced in large quantities and stored within the foliage to be used at night for growth or cell division.
Some suggestions 
Autumn and spring particularly brings the need for magnesium   supplementation particularly as you build up the fructan processing micro-flora. Anti Al MAG has biologically available ionise magnesium that is quick acting and can be doubled up if your horse is being troublesome.
The best time to graze your horse is a couple of hours after sunrise and again later in the evening as the sun sets when sugar levels are at their lowest.
A lot of behavioural problems can be completely eliminated by changing your pasture.
Applying a biological tea and improving soils biodiversity will reduce the need for expensive supplements and toxin binders.
Ensure your horse has sufficient salt (sodium chloride) this helps maintain the correct sodium/potassium balance. Imbalance can lead to neurological problems and can affect adrenal function.
High sugars lead to excess glycogen storage in the muscle fibres which makes the horse more reactive so lower the GI of feed by adding fats or oils to the diet. This will help manage sugar peaks and insulin disruption
Ensure that your horse gets sunlight with out the cover on for at least two hours a day. This will help increase calcium, vitamins A and D levels, all responsible for maintaining deep organ health as well as the nervous system ie levels of serotonin responsible for feelings of contentment. St John's Wort can also be supplemented at this time too.
Copyright © Dandelion by Pexeto