Head shaking Syndrome | Headshaking in horses
WHAT IS IT?
This condition is characterised by the shaking of the head up and down or side to side acting as though an insect has gone up the nose.
Head-shaking is primarily a disruption or sensitization of the trigeminal nerve. This disruption is caused by a range of triggers and a thorough diagnosis is the only way to decide on either treatment and/or management.
What has to be determined as well is that what started off a clinical condition, may have developed into an evasion.

CAUSES:
With the incidence of headshaking on the increase it pays to understand the condition a little better There seems to be a few common denominators pointing to possible causes and these will be covered later. If you can identify the causes the easier and more effective will be the treatment. C
There are two pathways to headshaking syndrome
1 – Exogenous causes arising externally (usually environmental triggers), pollens, spores sunlight, dust insects 2- Endogenous causes refer to internal changes within he body that activate the nerves and tissues surrounding trigeminal nerve
The two are of course interrelated because a compromised body is more likely to succumb to the symptoms.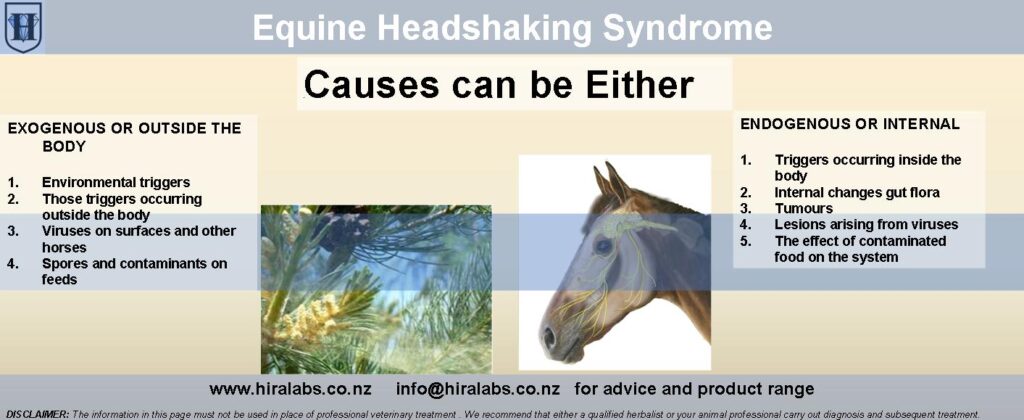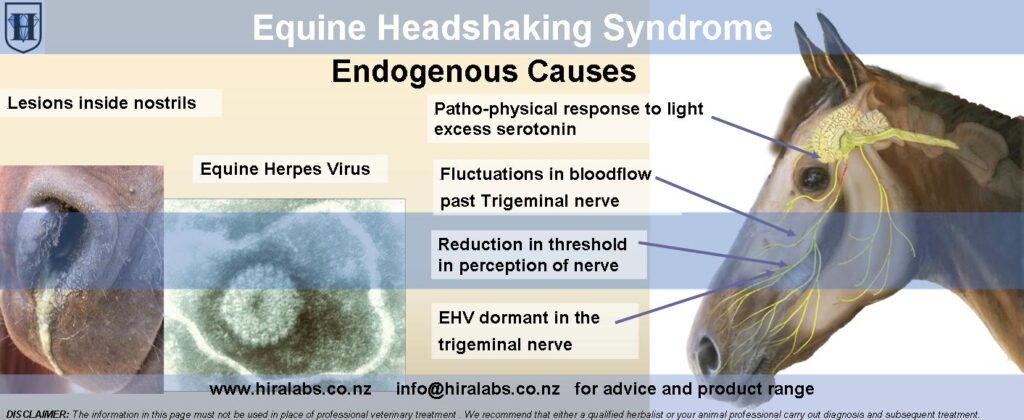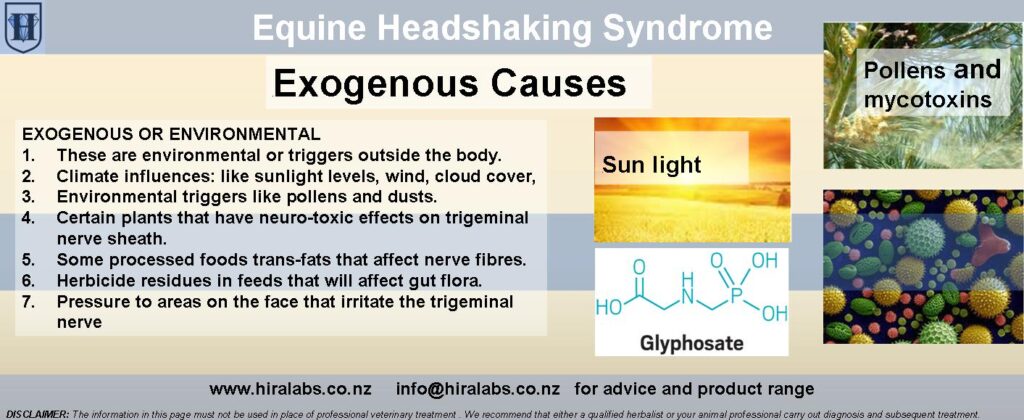 BEFORE STARTING TREATMENT
Are critical in deciding what course of action either veterinary, management or herbal treatments to start on. Note: Always get a veterinary diagnosis first.
There are herbs that are specific to addressing elevated serotonin levels. We know that these are to be given when the horse seeks shady areas, is worse in summer and bright sunshine.
Other herbs specific to addressing vessel dilation or constriction. Those that address pain and others to address allergies
SIGNS AND SYMPTOMS INCLUDE:
1 – Those horses exposed to EHV-1 lies dormant in the trigeminal nerve; then with heat, exercise, stress and/or sunlight, becomes active.
2 – Up/down involuntary twitching of the head — movement range varies from mild to severe to include twitching, plus ear and eyelid flicks.
3 – Pain responses — rubbing, sweating and rearing or striking at the face. Face rubbing is a common sign that corresponds to areas of perceived pain or numbness.
4 – High or low head carriage.
5 – Snorting or high-blowing, sometimes coupled with nasal discharges and behavioural seeking of muzzle protection (under the tail of another horse, a water bucket, etc).
6 – Nostril clamping after exercise may suggest the trigger zone is inside the nasal cavity where normal nostril dilation would lead to pain and discomfort.
7 – Distracted behaviour may be seen, such as loss of stride, stopping, rearing and striking at the face during exercise at all paces.
8 – True headshaking signs are shown in different circumstances, such as free exercise or lunging, and with different riders.
9 – In some cases the clinical and physiological causes have been resolved but what remains is a behavioural by-product that then presents as an evasion.
10 – Ears stuck out at right angles to the head.
11 – Horse will actively seek shady areas
12 – Symptoms may worsen in summer and improve with nightfall.
MANAGEMENT SOLUTIONS
While these solutions offered may seem too onerous and long term, it is worth noting when looking at cost/benefit ratios. It is more cost effective in the long run to put more time and money into the establishment phase. In other words planting permanent species that require less maintenance progressively decreasing over a 10 year period means you reap the benefits later at a reduced cost. Here I will try to demonstrate that by making some changes to the horse's environment you will have increasing rewards and reducing maintenance costs as time progresses. HEADSHAKING MANAGEMENT TIPS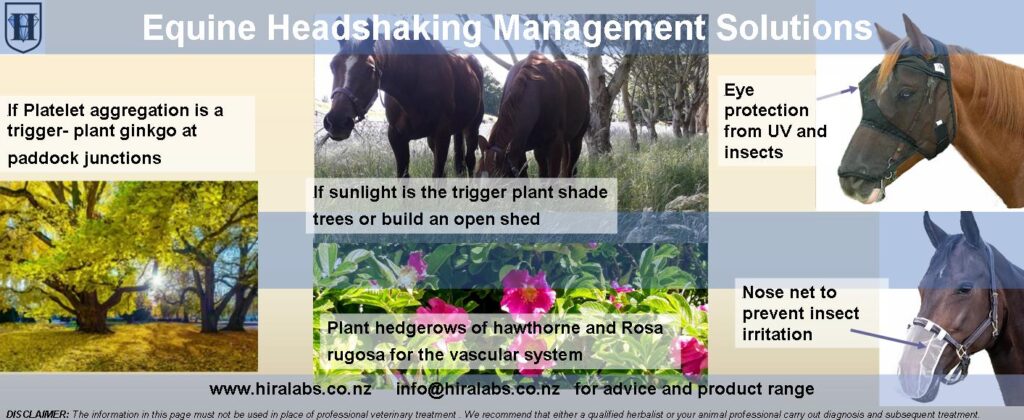 These methods may be tried at home and you can use them in combination with any of the other treatments (dietary and drug).Herbs will be discussed separately
If light is a trigger:
1 – keep the horse indoors during the day.
2 – Consider having the horse wear a UV blocking sun shade fly mask.
3 – Try a tinted polo eye guard. This is important if serotonin is the trigger, as sunlight on the retina stimulates serotonin production.
4 – Provide natural shade in the form of planting shade trees in the corners of all paddocks. See junction planting note Website link. 5 – While trees are being established consider a sun shade over a covered yard where the horse can seek shade at will. 5 – Consider providing extra Vitamin D and A supplements
If exercise is a trigger:
1- As the horse warms up through exercise more blood flows to the nasal area and will affect fluctuation of flow.
2- The levels of fluctuation are determined by either levels of constriction or dilation of the blood levels.
3- Dilated blood vessels have less fluctuation and certain plants can help with dilation.
4- Thicker blood due to platelet aggregation will have more fluctuation and irritation to surrounding nerves.
5- In some cases blood vessels themselves are thin and fragile.
6- Plant species like yarrow can be added to pasture which help with blood vessel integrity
7-Certain shade trees that have leaves that will help lower platelet aggregation ie ginkgo
8 –Other hedgerow species will help with the vascular system ie hawthorne.
9- certain herbs can be given before riding to help dilate blood vessels.
If Irritation to the Trigeminal Nerve is a trigger
These may include pollens and midges
1 – Use a nose net or other device which sits/falls gently over the nostril and muzzle area. Some have found a cut-off piece of panty hose pulled over the nostril to be effective.
2 – Ear covering and forehead 'dangling' material may help allay allergic responses to midges and pollens.
3 – Remove tree and hedge species that are known allergens ie pines with pollen, nearby privet hedges,
4 – All poisonous pasture and tree species that have known neurotoxic effects ie catsear, ragwort, buttercups, laburnum should be removed.
5 – Look at changing the pasture blend to include those that help with blood vessel integrity ie yarrow
6 – Provide blood thinning and analgesic species like willow, birch and poplars that can be harvested and added to feed.
7 – Tree species that help reduce platelet aggregation like ginkgo
8 – Hedgerows to include hawthorn that will help with the vascular system.
9 – Hedgerows that will provide anti oxidants like rosa rugosa. Hips, branches and leaves will provide these as well as fibre
10 – Essential fatty acids can be provided through the grazing of seed heads like juncus, flaxseed, evening primrose, even thistle seed heads
11 – Allow species to flower and form seed heads as these will provide natural oils broken down in the hind gut.
12- Low hedges of rosemary will help with the circulatory system. Hedge trimmings can be kept and dried and added to chaff mixes to improve blood flow.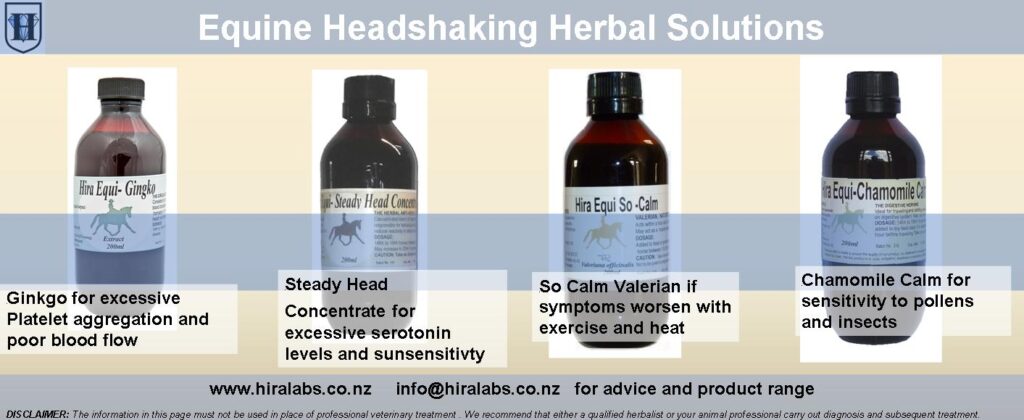 HERBAL TREATMENTS :
Herbal treatment will be more effective if you can determine what are the triggers and then certain herbs can be used to address those causes and reduce symptoms.
Further it is important to identify two of the more important causes which involves the levels of serotonin and sensitivity to light. If the wrong herb is given this will make matters worse
EXTRACTS USED IN TREATING HEADSHAKING:
1 – Steady head Concentrate: has a blend of anti serotonic herbs, vasodilators, anti-inflammatory and calming herbs to include ashwagandha, chamomile, mugwort
2 – So Calm Valerian is a concentrated extract of valerian to calm and act as a vasodilator
3 – Ginkgo is a PAF inhibitor and helps thin the blood.
4 – Chamomile Calm is a concentrated extract made from chamomile flowers and acts like a mild anti-histamine.
IF LIGHT IS A TRIGGER
1 – Anti serotonic herbs may help dial down the response to light hitting the retina. This is one situation where St John's Wort is not suitable.
2 – If it can be established that light irritates the trigeminal nerve the STEADY HEAD CONCENTRATE will be the recommended extract.
3 – May be combined with anti inflammatory herbs like DEVIL'S CLAW.
4 – ST JOHN'S WORT when applied topically in the nasal passages acts as an anti inflammatory and will help calm the nerve fibres. This is used traditionally for shingles.
5 – Reduce inflammation of the nerve sheath by administering 3 fatty acids (ALA and GLAs) daily to correct the balance between Prostaglandins E1 and E3 against the pro-inflammatory E2.
6 – OMEGA OIL COMPLEX which has oil soluble vitamin c added, will help reduce the over production of noradrenalin which can promote irritability, and excess seratonin byprotecting the nerve sheath.
IF EXERCISE IS A TRIGGER
1- Exercise can cause blood flow to fluctuate and irritate the nasal passages.
2 – SO CALM VALERIAN is a vasodilator which helps expand blood vessels to reduce the range of fluctuation between dilation and constriction.
3 – GINKGO 3ml daily will help improve blood flow by reducing platelet aggregation.
IF POLLENS AND INSECTS ARE A TRIGGER:
1- Use a nose net or other device which sits/falls gently over the nostril and muzzle area. Some have found a cut-off piece of panty hose pulled over the nostril to be effective.
2- Ear covering and forehead 'dangling' material may help allay allergic responses
3 – CAMOMILE CALM will act as a mild anti-histamine and will help calm the histamine response.
4 – Ear mites may be controlled using aromatic oil drops applied to the ears twice daily.
Copyright © Dandelion by Pexeto