Contact
---
To purchase our products you may either buy off us direct by emailing us at   info@hiralabs.co.nz or info@hiralabs.com contact the people below.
Note: when ordering off us direct please make sure that you provide us with your name and physical address and landline for courier purposes
Hira Laboratories Ltd
PO Box 4302
Wanganui
Phone: 06 345 0737
Mobile 0224259926
Email: info@hiralabs.co.nz or info@hiralabs.com
Stockists and Contact People
Horse Sports Takanini Auckland 
contact Jacinda or Maree of Horse Sports
092696518
Rangiora Equestrian Supplies  Canterbury Region Stockist
Rangiora Equestrian Supplies
Georgie Dormer and Anna Palmer have recently purchased Rangiora Equestrian Supplies and are committed to bringing you the best in your equine requirements including feed, supplements, saddlery and clothing.
623 Lineside Road Rangiora
Phone 033131674
email info@rangioraequestrian.co.nz
website: www.rangioraequestrian.co.nz
Richmond Saddlery Nelson Region Stockist

Clinton Day Richmond Saddlery
430 Paton Road
Hope
Nelson 7081
03 5444177
 Website: http://richmondsaddlery.co.nz/
 Facebook: http://www.facebook.com/richmondsaddlery?ref=hl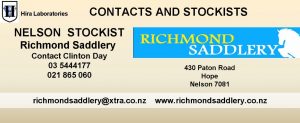 Ruth Mahy Rural Trading Post
Unit 2/2 Jupiter Grove
Trentham Upper Hutt
04 5282152
or
15 Paekakariki Hill Road
Porirua
04 2348889
ruraltradingpostdirectors@gmail.com
Julia Latham of Flying Horse Ltd 
79 Erskine Road,
Otatara, RD9
Invercargill 9879
New Zealand
Phone 03213 1200
email is flyinghorse@xtra.co.nz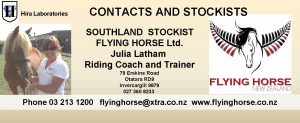 Wanganui Farm Supplies  Wanganui Manawatu Region 
Talk to Scott for their full list of products.
5-9 Church Place
Wanganui.
Contact  Scott at scott@wgfs.co.nz
063454663
or www.wanganuifarmsuppies.co.nz
Linda Brown RWYM  Trainer
See below her contact details. Linda is avaible to conduct clinics throughout the Country. Feel free to contact her if you would like to have a clinic in your area. She will be conducting  clinic here in Wanganui September 26th, 27th and 28th of September 2014.
Linda's website is  www.lindabrowndressage.com
Linda has been using and recommending a range of our products as an adjunct to dressage training. The two products that suit her philosophy of training are Hira Impulsion Concentrate and Hira Submission. See our articles page for more on what Linda can do to help you along the path of successful biomechanics riding in particular dressage using the RWYM principles. How you sit on a horse is essential to how the horse carries itself. You cannot not influence the horse. As soon as you land in the saddle the horse 'reads'you as a rider. Its amazing how a horse will go completely differently for two different riders, but it is no longer a mystery, and it is possible for everyone from beginners to Grand Prix riders, to make good changes.
Danielle Mc Kenzie For South Canterbury

Woodvale Equessentials ltd T/A Equestorium
58 William Street
Ashburton 7700
Canterbury
Phone 033028869
email is contact@equestorium.co.nz
Duwell Ltd  – Hastings Hawkes Bay

Christy Hughes
Hawkes Bay
Email; cristy@duwell.co.nz
Website ; www.duwell.co.nz
Mobile:  027 404 3456
Phone : 0800 238 935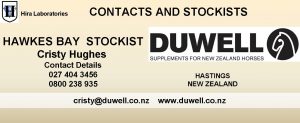 Animal Therapies Limited -North Canterbury 

Rehabilitation Centre
415 Woodbank Road
Hanmer Springs
P; 0800 452 642
Janice
Clyma at Saddle Up
Online New and Used Tack Solutions
P O Box 233 Hanmer Springs
7360 North Canterbury
The Tack Shack  
Motoroa New Plymouth

contact
Jules Everest: phone 0274 545 300
Ingrid Anderson phone 0211 232 966
Store : 06 751 2225
 Dr. Liza Schneider  Holistic vet  Bay of Plenty Contact www.holisticvets.co.nz
Disclaimer
Hira Laboratories will accept no responsibility for the application of any of the enclosed information in practice nor will accept any responsibility for the use or misuse of any of the products listed in this site.