Specials | VALERIAN SO CALM Anti Al MAG Magnesium SPECIALS
---
TO STOP THE SLIDER HOVER YOUR CURSOR OVER THE MOVING IMAGE
To place an order just email us info@hiralabs.co.nz along with your delivery details and we will process your order as soon as we get your email.
Disclaimer
While every effort is made to ensure the quality of our product, no statement or information contained on this page construed as a claim that this product is a cure,
mitigation, treatment or prevention of disease or any other medical condition.This information is to be regarded as a product guide only. Hira Laboratories will not be held responsible for the use or misuse of any products listed. We recommend that either a qualified herbalist or your veterinary professional carry out diagnosis and subsequent treatment.
Tips for Guy Fawkes
Guy Fawkes and what to do to mitigate risk.
Over the next few weeks start a short course of St John's Wort on those horses that are anxious and suffer from separation anxiety 2 ml daily is enough
If you decide to use a natural or vet sedative on the night do a test run on it for a few days before to make sure the horse does not become more anxious
A few days before locate horses to a safe paddock, ideally smaller than they are in normally and make sure they have a paddock mate.
Apply common sense and make sure fences are secure, that there are no ditches or too many changes in ground levels and there are no obstacles they could trip on.
Maybe desensitize them a few weeks before by snapping dry twigs at dusk and observe.
I plan to go into the paddock in the next few weeks with a torch that I flick on and off. Make it seem normal.
On the night if the horses are normally stabled take them in and make sure they are secure and can't clamber over doors and dividers.
If you are going to sedate, do it well before dark and while the horse is relaxed.
Do NOT attempt to sedate as the horse's anxiety is starting to rise.
Stay close by to be there to comfort and reassure your horse. They respond well to a calm human being.
T
Changes to Product Bottles
Our suppliers of the litre bottles have made it uneconomic for us to continue with them hence the need to make a few changes.
The new 500ml size available later this year when all the litre bottles have been sold.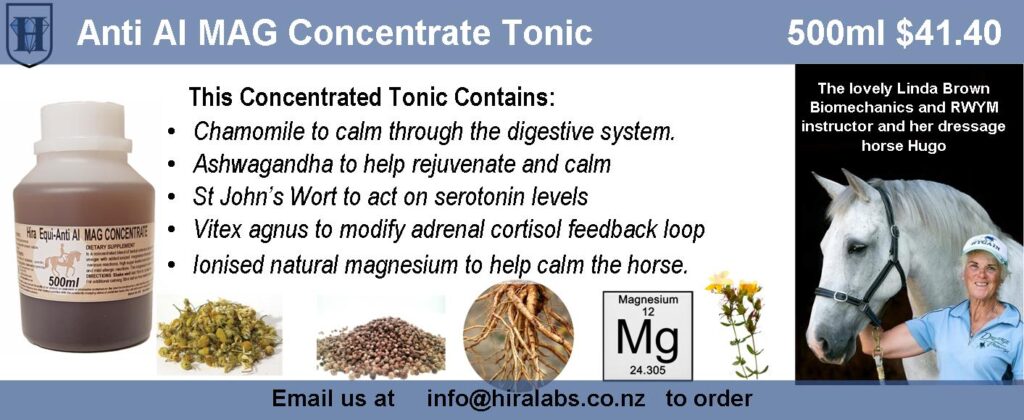 Horse Specials for October 2023
We have limited supplies of the litre bottles of Anti Al MAG left so while stocks of this last here is the latest special.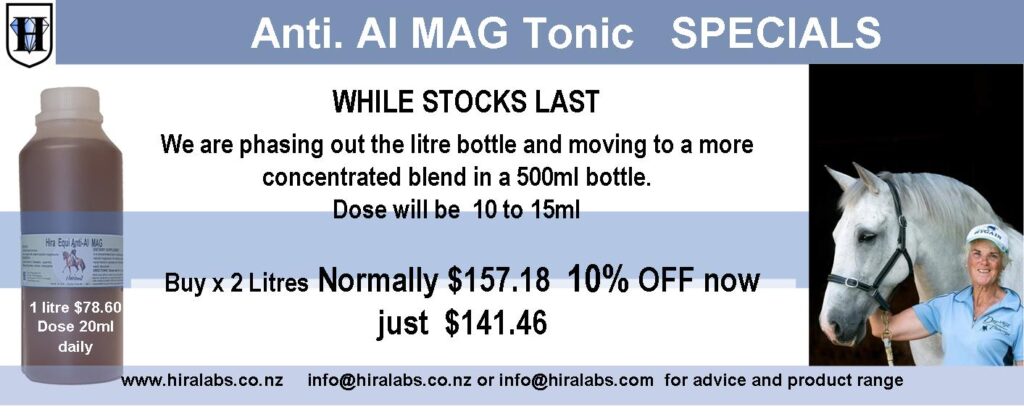 VALERIAN SO SO CALM
We have discontinued the litre bottles and these are replaced with the 500ml bottles.
Our special this month is 10% DISCOUNT on one 500 ml Valerian and 15% if you buy 2 x 500ml
PEOPLE SPECIALS
We have made a new batch of the ever popular Nutrient cream with Hyaluronic acid added. It is